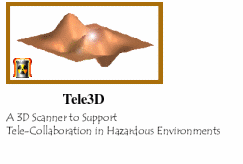 TELE 3D – A scanner for 3-D registration of objects (TELE3D – Um Scanner para Registo Tridimensional de Objectos)
Project Type: MSc Project
Research Field: Multisensor Fusion and Multirobot Systems for 3D Reconstruction
Time span: 01/2003-01/2005
Webpage

Description:
Three-dimensional surface reconstruction from twodimensional images is a process with great potential for use on different fields of research, commerce and industrial production.

This project comprises the study and development of systems which implement the aforementioned process, exploring several techniques with the final aim of devising the best possible compromise between flexibility, performance and cost-effectiveness.

A special focus was given to the most ubitiquous problem in 3D scanning - 3D registration.
Related People