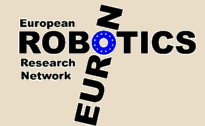 EURON - European Robotics Research Network
Project Type: General Research Project
Research Field: International Cooperation and Networking
Sponsors: CEC/DGIS/Cont. No IST-2000-26048
Time span: 12/2000-12/2001
Webpage

Description:
EURON stands for the "EUropean RObotics research Network".

This project's purpose is to implement and maintain a European network of excelence in the area of Robotics, with the objective of coordinating research, education and collaboration between the academic and the industrial world within Europe.

The main goal of the project is to promote the development of Robotics, so that Europe becomes a worldwide player in this domain.
Related People